Spain
Barcelona is one of the coolest cities in the World, a beautiful metropolis with rich culture, glorious art and architecture, and locals that welcome you with open arms. Spain has so much to offer tourists when it comes to beaches and sun kissed vacations, but when it comes to city breaks there really is nowhere like Barcelona. If you haven't been to the Catalan capital yet then I strongly suggest that you go as soon as possible and here are the top 4 things to do when you're there.
La Sagrada Familia
The architecture of Barcelona was largely influenced by Antoni Gaudi, his masterpiece was the designing of Sagrada Familia, a stunning and intricately designed cathedral that is set for completion in 2021. In spite of its unfinished construction, the cathedral still looks amazing and is well worth visiting. The cathedral is designed in the Gothic style and is filled with small sculptures, artistic indentations and features 4 grand spires on the roof.
La Rambla
The main street in Barcelona is la Rambla, a wide street that goes from the Old Town all the way down to the incredibly modern harbor. One of the best things to do in the city, especially when you first arrive, is to take a coffee or a beer on one of the street bars on la Rambla and watch the people go by. There is always something happening here and in the night the market and food stalls open and the street takes on a different atmosphere entirely.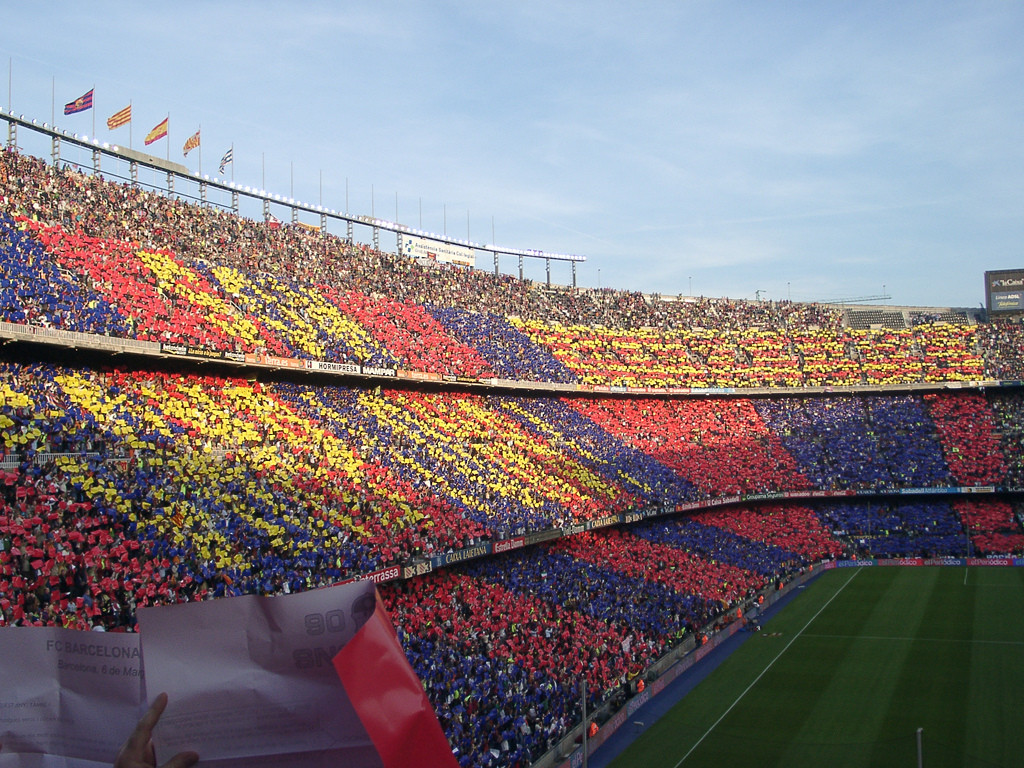 Nou Camp
If you are able to get to the incredible home of Barcelona FC, the Nou Camp stadium during your time in Barcelona then I cannot recommend it enough. Even non-football fans will be amazed by the atmosphere here as 100,000 pick into the stadium to watch their beloved Barcelona. If you aren't lucky enough to get there on a match day then football fans can take a tour of the stadium where they will go into the changing rooms and the dugouts before hitting the pitch and finally visiting the football museum, a celebration of all things football, and the perfect place for any fan to indulge in their beloved sport.
Picasso Museum
Barcelona played a very important part in the life of artist Pablo Picasso, it is only right then that they possess would of the largest collections of the late artist's work. To truly experience the greatness of Picasso you need to see the paintings and sculptures that are on offer in this museum. The museum was actually opened whilst Picasso was alive and he gave it a great deal of his work including sketches and drafts that cannot be seen at any other museum in the World.
I am sure that you will fall in love with this beautiful city, I have been 5 or 6 times and even found myself searching for Barcelona villas for sale the other day, perhaps not to purchase right now but the idea of spending my summers in this awesome city is an idea that I intend to pursue.
Thanks to its combination of sun, sand and world-famous nightclubs, Ibiza is a real mecca when it comes to group holidays. If you and your friends are contemplating hitting Ibiza this summer but are worried about the effect it'll have on your bank balance, read our guide for making the most of your money on this sun-drenched party island.
Travel and hotels
Let's start with the ultimate basics – you need to find the very best deals when it comes to travel and hotels. And while you might automatically think a package deal would offer you the best price, you're actually often better off booking your flights and hotel separately. Why? Because this way you get to pick the most affordable option for each, not to mention have more choice when it comes to things like flight times.
There are plenty of tools at your disposal when it comes to finding the best deals – websites like Holiday Nights, which list the latest offers, are particularly handy. Once you've got your flights and hotel sorted, you need to think about how you'll get from one to the other. Don't be tempted by a taxi, as these are often pretty expensive; instead, either hop on the bus or hire a car – the latter is particularly worthwhile if you fancy exploring quite a lot of the island.
Clubs
Partying is what most people come to Ibiza for, and considering the calibre of the clubs, who can blame them? In terms of both making the most of your trip and ensuring you don't pay over the odds, it's worth doing a bit of advance planning when it comes to clubs.
The first step is to work out exactly which clubs you absolutely have to visit. You should then try to book tickets for these online, for two reasons. Firstly, this means you'll definitely get in and so won't have to face the gloom of missing out on the party you most wanted to hit. Secondly, it also means you're likely to pay less for your ticket, giving you more money to have fun with.
For many people, the ultimate club to head to is Pacha, which is on Avenida Ocho de Agosto in Ibiza Town. The oldest club on the island, it's also one of the most famous, and it's well-known for being one of the most glamorous and luxurious nightspots around. Plus, it's absolutely massive – try to spend some time in several rooms to get a feel for the different vibes the place has.
What else to do and see
It's easy to forget that there's a lot more to Ibiza than nightclubs and beaches. So, if you really want to make the most of your trip, spend some time digging beneath the surface. Dalt Vila in Ibiza Town, for instance, is a UNESCO World Heritage Site.
This is the old part of the city, which is hemmed in by 16th-century walls – and these are a good place to start your exploration. The impressive gateways you'll find dotted along the walls are their most interesting part – particularly worth seeing are the Portal de Ses Taules and the Portal de Soto es Fosc.
Other prime candidates for a visit are Ibiza Castle and Ibiza Cathedral, while taking a boat to the tiny neighbouring island of Formentera is a great way to escape the crowds for the day.